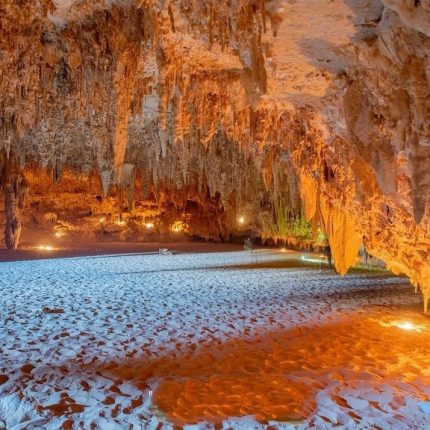 3 Days 2 Nights
Enjoy a 3 Day trip to the white desert white-desert Egypt and Djara Cave from Cairo, Includes one night camping in the  valley of Agabat  and one night in the 
White Desert Djara Cave – Explore the Well Decorated Cave in Egypt
Discovered in 1873 by German Explorer Gerha Red Rolfes, and known for geologically important stalactites and stalagmites, the Djara Cave is situated in the New Valley Governorate near the Farafra Oasis.
White Desert Travel takes you to explore the natural marvel of what happens when pure water comes in contact with dry desert for over millions of years.
Book Your White Desert Djara Cave Tour Now!
What to See?
The cave is located 50 meters deep in the ground. The entrance of the cave gives an impression that you are entering down a small limestone basin.
The result of dry desert climate combining with pure water has led to the formation of magical dimensions, and some sedimentary formations reach height of three, four feet.
The sedimentary forms, ascending and descending looks like frozen waterfalls in this earthly tunnel.
The cave murals consist of playing and hunting drawings created by fishermen during the wet Holocene epoch.
You can witness a stalagmites-shaped stone, a rendering of beautiful and famous scribbles or painting, disintegrated year after year.
Explore Djara Cave Up-Close with Us
Our tour guides will brief you with each and every individual spectacle of the cave throughout. Right from Cairo to the Bahariya Oasis White Desert, then Djara Cave and back to Cairo, you will have the best time and a fun-filled, rich-exploration travel – That is our promise!
Plan Your Travel with a Hassle-Free, Affordable Package
Comfortable, timely pick-up at pre-scheduled time
Modern, luxury vehicles for comfortable and convenient travel
Amenities-equipped accommodation specific for a relaxing time
Delicious dinner served to enjoy around the campfire
Other facilities include breakfast and lunch, local sightseeing and much more
All of our packages are carefully designed to provide you with best in travel, holiday enjoyment, and relaxation; all at low-cost prices!
Book White Desert Djara Cave Tour – Explore Splendid Naturally-Formed Architectural Phenomenon!
Our Latest White Desert Djara Cave Tours Images